Microsoft Comfort Mouse 4500 / Logitech G500 - Aftermath and new beginning...
In this article I want to show you the concept of psychological obsolescence by taking the example of my computer mouse for the past +/- 20 months (psychological obsolescence is used for products that become obsolete not because they are not functional any more, but because they look old / shabby or just boring compared to a newer installment of their product series). After having used it for some time, the Comfort Mouse 4500 was and still is a good working mouse (the wheel has no "click" - somewhat irritating at first - but I got used to it pretty fast). However it has a serious problem with the quality of its rubbery finish and the rubber used for its mousewheel.
That is how the mouse looks like now:
If you look closely - okay I assume you have to really know the mouse very well to even notice this - you can see, that the rubber coating of the mousewheel has already come off. That is how it looks like - a strip of goo...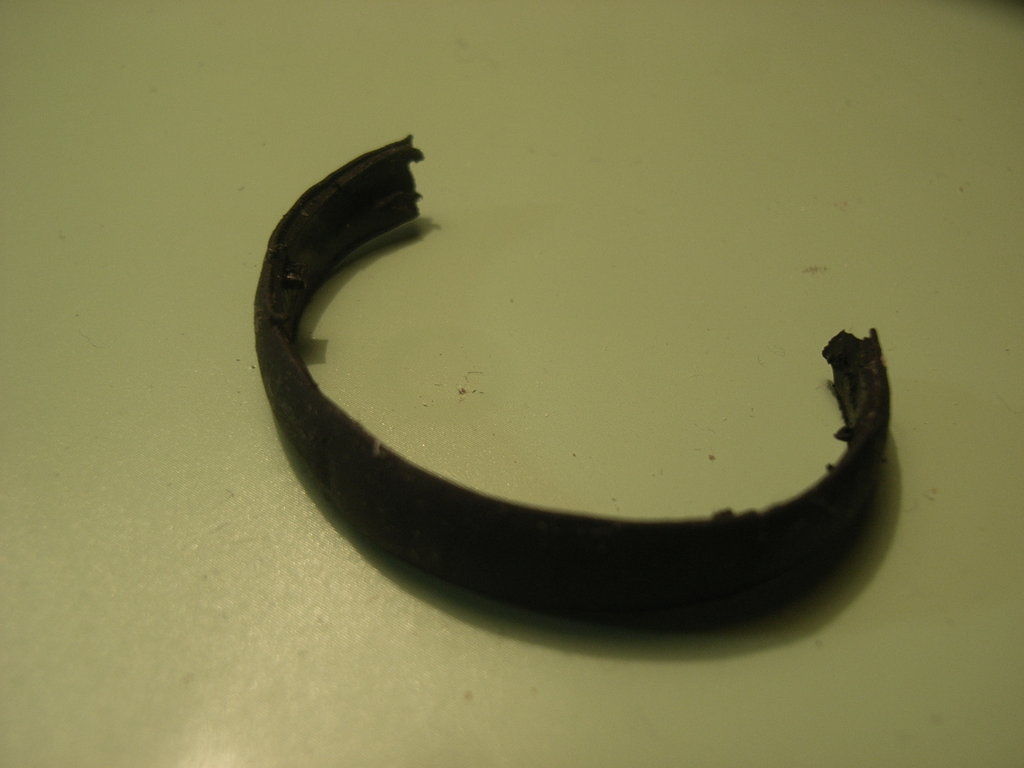 I assume it must have interacted chemically with the temperature and sweating from my fingertip. You can almost form it like clay now and just as clay it becomes more dry and gritty after moving it between your fingertips for some time (see the next picture).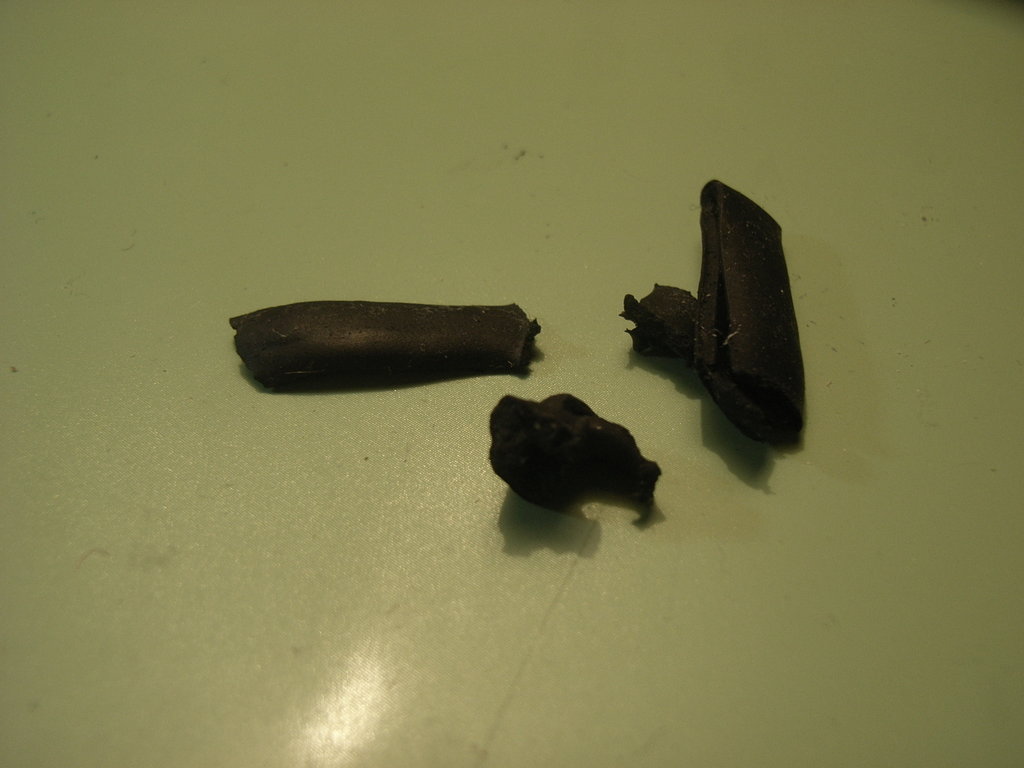 The rubber coating at the thumb side of it (i.e. its left side as I am a right-handed person) doesn't look healthy, too. I don't know if one should be concerned about the plasticizers coming out of the rubber and being absorbed by your hand and body...
See another photo here: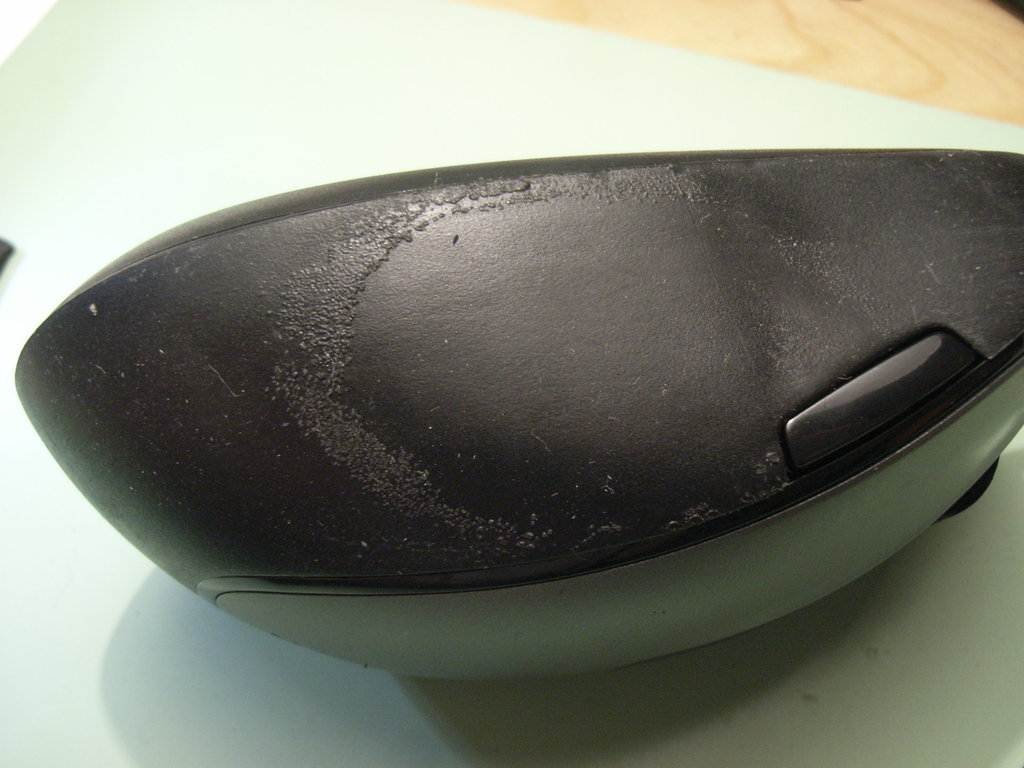 The soft graining has actually worn of leaving a flat rubber coating. Because of these issues and because I got another used mouse now - see below - I will stop using the Comfort Mouse at this point (of course I will keep it as a replacement).
My "new" mouse is this Logitech G500 that I collected from trash some time ago - maybe it was disposed of because it started looking trashy...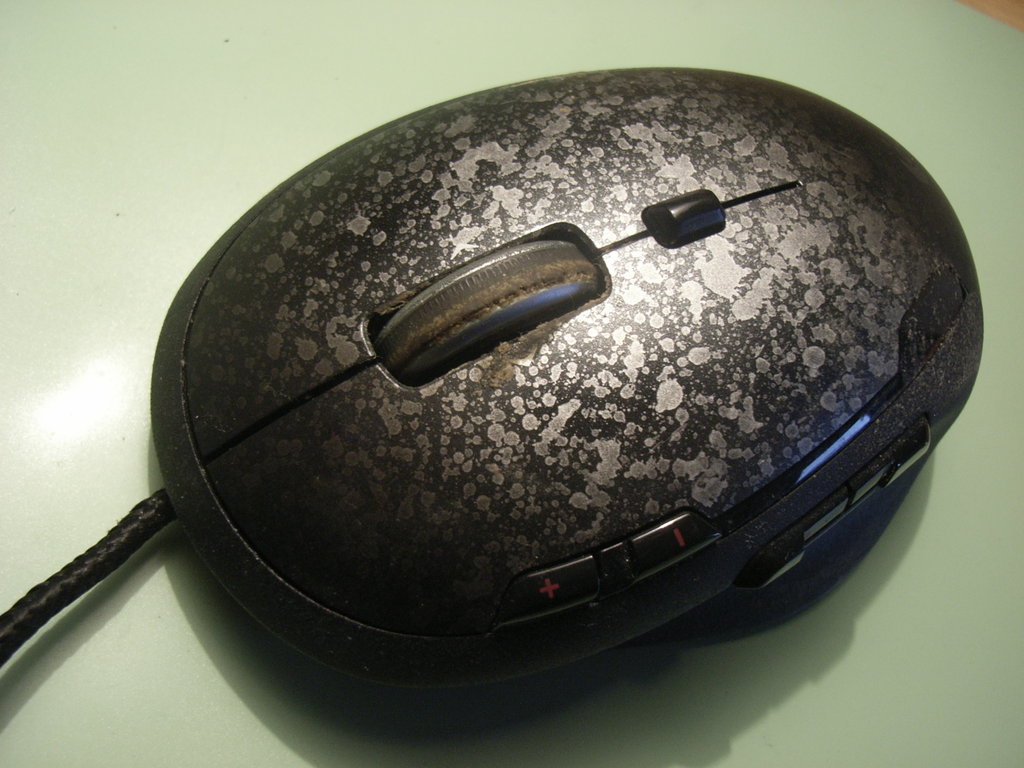 See how the colouration with its (unnecessary) silver sprinkles changed somewhat to a brownish colour? Colourations that come off or change in colour are another way for getting users to renew their hardware...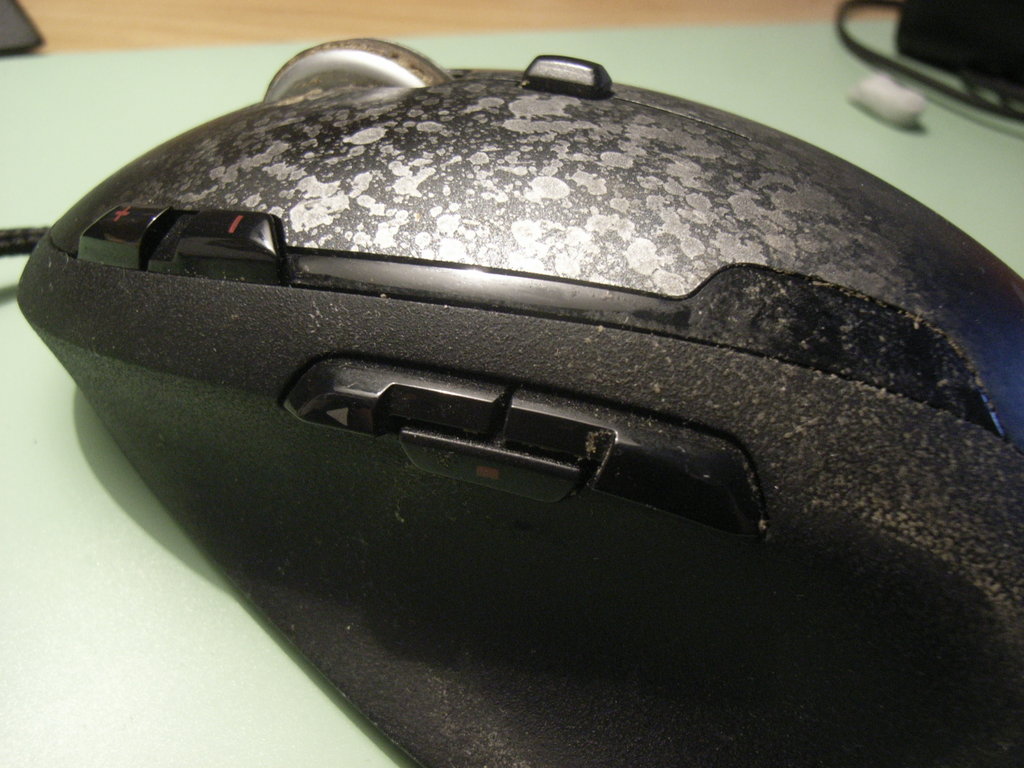 Of course the graining is not only good for giving you more grip - it also helps to collect dust and dirt. The next picture shows the underside of the G500.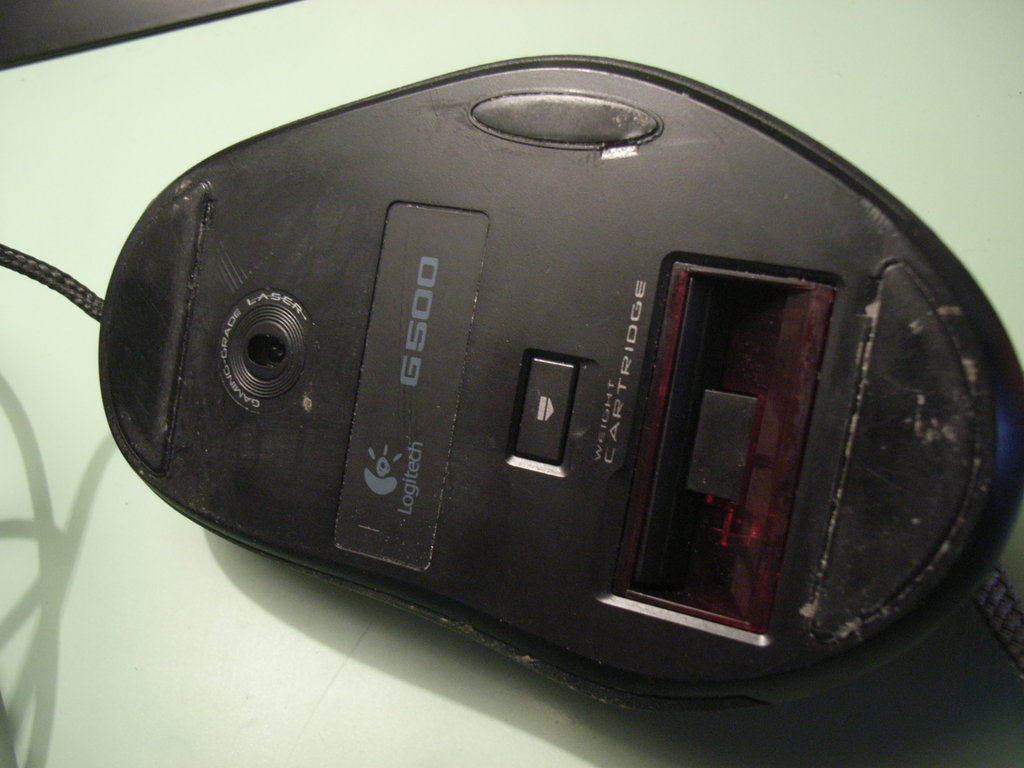 As it is one of the top gaming mice out there, I gave it a complete cleanup.
Here I removed the internal logic boards before I put the rest of the parts in soapwater overnight. An old toothbrush (recycled, too ;-) helped to do the rest.
The last two photos show that cleaning meant successfully fighting obsolescence in this case. The mouse looks just as new now and works great, too.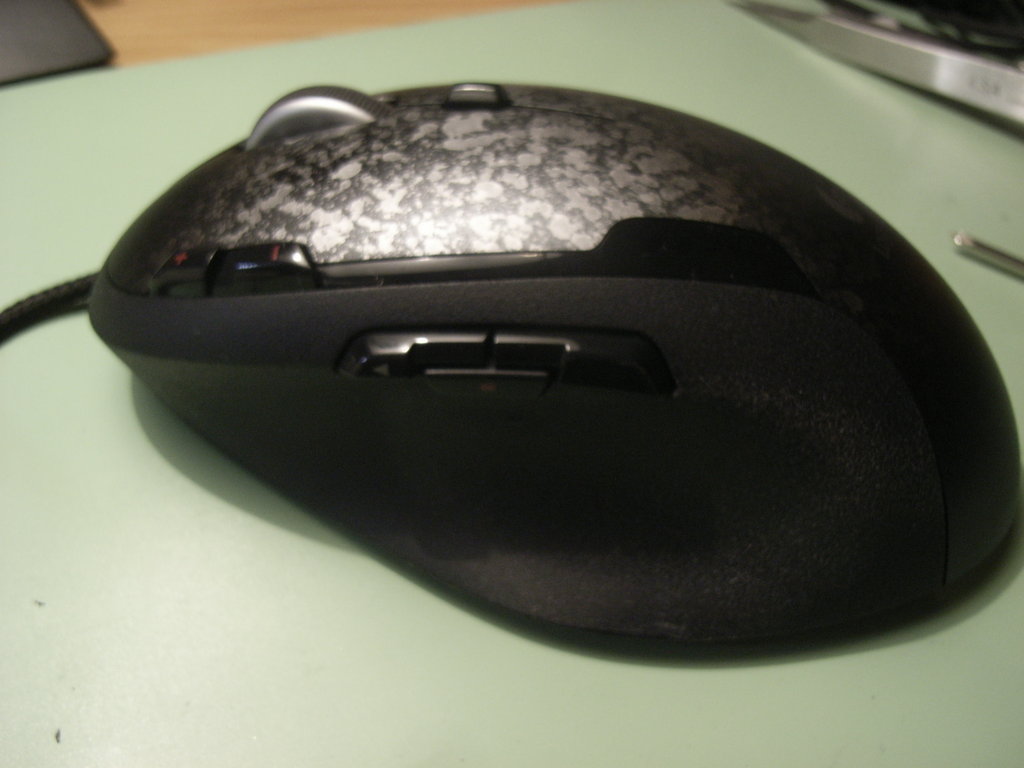 Especially the mousewheel shows a difference as night and day...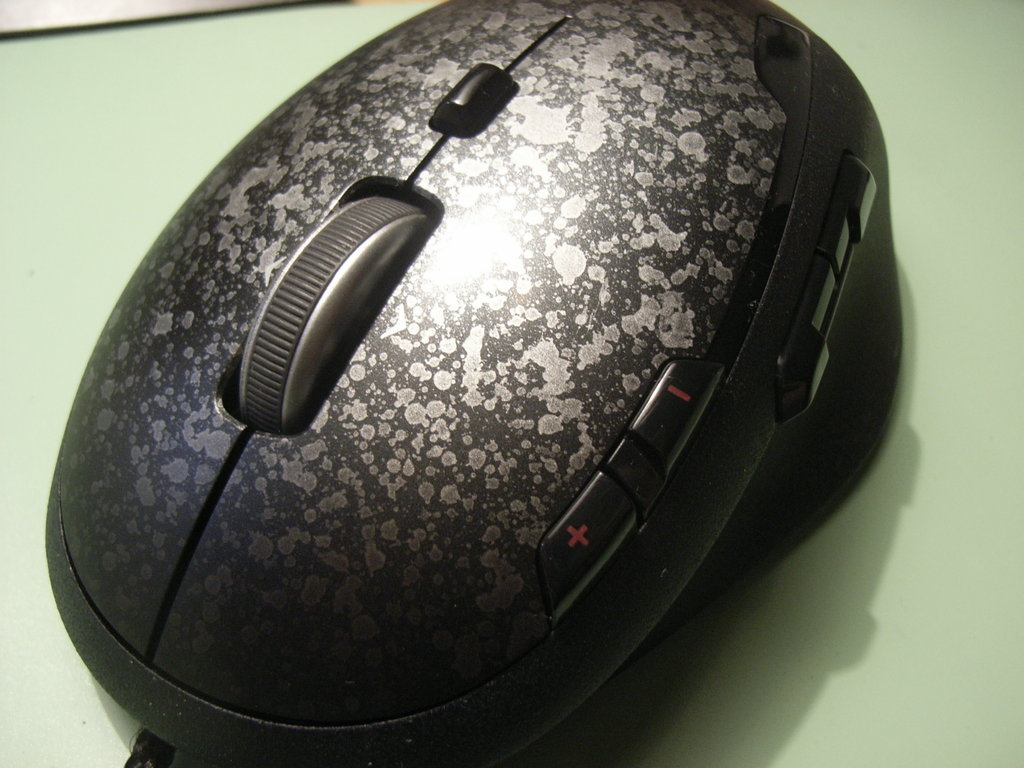 Hope you get inspired by this article =-)
greetings noq2